Can A Nation $18 Trillion In Debt Afford Higher Interest Rates & Will This Change Our Retirements?
For some years now, very low interest rates have been reducing the earnings of retirement investors as well as the lifestyles of many of those already retired. To understand why this has been happening – and why it may continue for a very long time – one must recognize that there is a direct relationship between the interest rates that are paid to savers, and the interest payments made by a heavily indebted federal government.
For a retirement investor who is currently earning a 1% interest rate, a 5% increase in rates to a 6% return would increase their total investment earnings by 1,263% over 30 years, allowing for a radical improvement to their eventual retirement standard of living.

And for a current retiree who is drawing down their investment portfolio over 20 years, a 5% increase in annual interest rates from 1% to 6% would allow them to raise their standard of living by a full 57% in each and every one of those years.

For the United States government, on the other hand, a 5% increase in interest rates on the national debt would raise the annual deficit by about $900 billion per year. Because the government borrows the money to make interest payments, this could set off a chain reaction of paying interest on money borrowed to pay interest, leading to a national debt increase of $67 trillion in 20 years (absent major tax increases).

Why Early Collection Of Social Security Benefits Can Be The Best Choice
One of the most important financial questions someone of retirement age in the United States faces is when to start collecting their Social Security payments ─ and this crucial decision deserves the best possible information to work from.
Recently, there has been quite a bit of publicity about studies showing that for a retiree who lives to an average age, there is a six figure advantage to waiting until age 70 to begin the collection of Social Security payments. That is an amazing advantage ─ but does it hold up under close scrutiny?
As we will explore herein, once we "raise our game" a bit, and use a more sophisticated type of financial analysis than some of the very simple Social Security decision aids in wide circulation ─ the results can turn upside down. That is, for many millions of people, the financial case for early collection of benefits is much stronger than is commonly recognized.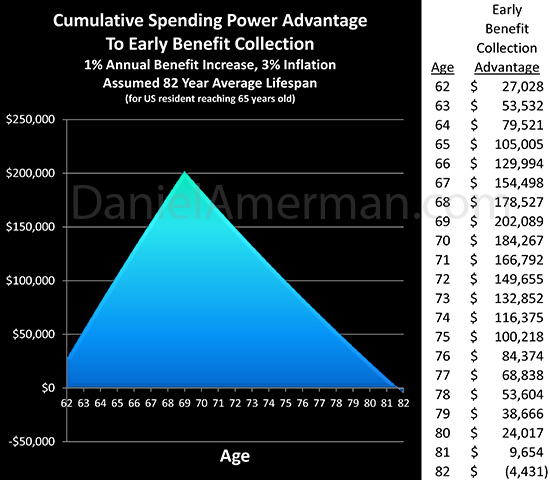 Have Revolutionary New Rules For Rescuing Banks & Corporations Also Put Your Savings & Pension At Risk?
The good news is that the culprit has been found, the problem fixed, and thanks to the heroic efforts of politicians and regulators around the world, we need never again worry about the failure of big banks destroying the world economy.
The bad news is that the global culprit turned out to be...  you.  You and your shamefully selfish relationship with your bank deposits, investments, insurance policies and pension.
It seems the real heart of the problem was never banks making bad investments, or pension plans being underfunded.
Oh no, the underlying issue all along was your selfish expectation that you were entitled to get all your money back if you want.  Or to get your insurance policy paid.  Or to receive your contractual pension payments in full.
So if a very large bank, pension fund or financial company gets into trouble and thereby imperils the stability of the financial system, the cure no longer requires a very costly government bail-out.  Rather, the thoroughly modern and far less expensive solution for governments and corporations is simply to decide that you are no longer entitled to the money that you thought you were.
Is There A "Back Door" Method For The Government To Pay Down The Federal Debt Using Private Savings?
The United States government is currently about $18 trillion in debt. To place this number in perspective:  if we assume that only the above-poverty line households will be making net contributions towards paying this enormous debt, this means that the national debt equals about $180,000 for each "able to pay" household in the US.
With traditional financial planning, the most common way of dealing with this problem – is to completely ignore its existence. Rather than try to incorporate the effects of this massive debt that could transform interest rates, economic growth and rates of return for decades – most investment plans for individuals simply pretend it doesn't exist.
However, if one is to make reality-based financial decisions over the long-term, then there is no substitute for understanding just how nations actually deal with massive debts in the real world, whether in the United States or in other Western nations with extraordinary levels of debt.
In practice, there are four primary methods which nations use to pay down huge government debts when they have borrowed in their own currency:
Apple Pie, Economic Growth & Fatal Stock Market Flaws
What is it that will actually determine: 1) how our retirement investments will perform, 2) at what age we will be able to retire, and 3) what our standard of living in retirement will be?
For the usual answers, we've been taught to turn to the assumptions of conventional financial planning. But there's a problem with doing so, which is that the path that the economy and investments have actually taken over the last decade and more doesn't seem to have been anticipated in the usual assumptions.
What actually happened with the Financial Crisis of 2008 and the following Great Recession came as quite a surprise to many, as have the unusually low interest rates which are currently pushing back the planned retirement dates for many millions of people, even as these low rates reduce retirement standards of living.
In the interest of trying to avoid future surprises, perhaps we should start by asking some very common sense questions about retirement savings, that while absolutely essential – are rarely asked. Consider the following three:
How Do Banks Use Low Interest Rates To Take Billions From Savers & Investors?
For over six years now, one of the greatest redistributions of wealth in the financial history of mankind has been in process.
Vast sums of wealth are being redistributed away from average savers and investors, and are flowing into banks and other financial institutions around the world.
Unfortunately, however, the normal financial education even for a reasonably well-read individual investor does not include how this works. It has instead traditionally been more the province of professionals.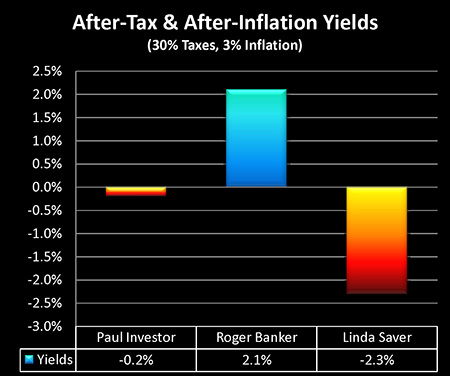 Using a simple to follow, round numbers illustration, this analysis will demonstrate exactly how this hidden redistribution has been working in past years – and how it may continue to work in the future.
Is "Mainstream" vs "Doom & Gloom" A False Dichotomy – And Could Our Financial Future Be Neither?
Perhaps the single greatest danger facing investors over the long term is to be investing for the wrong paradigm. That may sound a little theoretical, but we have a very clear and quite dangerous real-world example going on in front of us right now, which is the false dichotomy between the "Mainstream" and the "Gloom & Doomers".
The way it is too-often presented is that most people in the investment community fall into one of two groups. There is group (A), for those who are for the most part secure in the comfortable Mainstream. They understand that the financial world has some real issues and that there may be some bumps in the road, but believe that investments over the long-term future will perform pretty much the way they did in the latter half of the 20th century. And because there is a high degree of confidence among the mainstream that this will be the case, the assertion is that people can safely invest their life savings based on this assumption.
For those who disagree with this, the conventional narrative automatically moves them all the way over to group (B), the "Gloom & Doom" camp. This group is typically presented as being comprised of marginalized, eternal pessimists who are always convinced an economic doomsday is nigh.
So, as the narrative goes, either you (A) buy into the status quo, or (B) you reject it, and prepare for the inevitable collapse of the status quo.
As with all false dichotomies – which are incidentally a quite effective way to control the perceptions and thus the behavior of tens of millions of people – there is an elementary error in logic in assuming it must be either (A) or (B).
What if the current economic and investment reality aligns with neither (A) the continuation of the status quo from the long-gone latter half of the 20th century, nor (B) the collapse of the status quo, but instead (C), the ongoing transition to a new status quo for the first half of the 21st century, which is that of a dysfunctional economy that is increasingly dominated by governmental interventions, with an ever-smaller share of that economy coming from free enterprise and the private sector?
Other Recent Articles
Ongoing articles and commentary about current financial developments are sent directly to subscribers (subscription is free, and is included with the free book).  A sampling of some recent articles can be found below.
A Financial "Perfect Storm" May Be Brewing
Mice, Mazes & Investor Perception Management
The Existential Danger To The Euro Is Elections
Will Ever More Boomers Selling Retirement Assets Change Investment Prices For Decades?
Did The Fed Just Admit to Deep Uncertainty About Our Financial Security In Retirement?
Will Your Retirement Accounts Survive The Coming Tax Code "Revolution"?
Yellen's Tiger Riding Dilemma Keeps Interest Rates Near Zero
Four Conflicts Of Interest Between Governments & Retirement Investors
Does Economic Stagnation Create Dangerous Financial Bubbles?
Four Dangerous Paths: Wargaming The Greek Crisis From A Global Investment Perspective
Is There A New Global Consensus About Cheating Investors To Reboot Employment?
Apple Pie, Economic Growth & Fatal Stock Market Flaws
Euroskeptic Victories Raise Global Risk Of Return To 2012 Crisis
How Do Banks Use Low Interest Rates To Take Billions From Savers & Investors?
Can A Nation $18 Trillion In Debt Afford Higher Interest Rates & Will This Change Our Retirements?
Why Is The Federal Deficit Really Falling?
How Social Security Trust Funds Will Change Private Retirement Income
Deadly Deflation Myths
Six Reasons Why The Government Will Create Inflation
Taper & Quantitative Easing Reality Check