Our future will include exceptional new opportunities, as well as new retirement and investment risks. However, because of the many investment and economic changes that are still in process - some of these rewards and risks are likely to be found in some quite different places than they used to be.
The analyses below explore some of the new financial opportunities - and the new risks.
The Wealth Function & Potential Record Asset Prices
Next Recession: Turning Zero Percent Interest Rates Into A 21% Yield
Using A Matrix Framework To Identify Cyclical Investment Risks & Opportunities
The Wealth Function, Fed Cycles & Permanent Losses
There is a mathematical function that forms the very bedrock of investment valuation. When we look at the continuing effects of the extraordinary measures which the Federal Reserve took to contain the Financial Crisis of 2008 and the Great Recession, and we run the numbers through that function, what it tells us is that the end result should eventually have been some of the highest valuations for stocks, bonds and real estate in history.
To see what the mathematically supported increases in valuations have been - in generic terms and across multiple asset categories - we can compare the red bars of long term historical valuations, with the purple bars of what current valuations should be.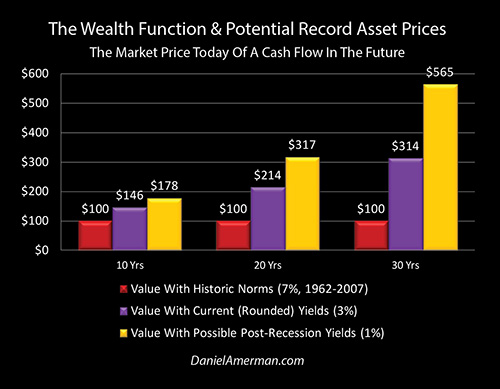 A cash flow from any source (it could be stocks, bonds or real estate) that is ten years out and would have been worth $100 in ordinary times, should now have a value of $146, all else being equal. And a cash flow 30 years out should now have a value of $314, which is 3X what it would have been in the decades before the financial crisis.
The unprecedented and extraordinarily powerful interventions made by the Federal Reserve in order to contain the last cycle of recession and crisis, also necessarily created the mathematical foundation to support many trillions of dollars in new wealth - and that is exactly what we have. Many millions of households currently enjoy very elevated values for their homes and stock portfolios because of this new foundation, and many fortunes were made in the path to those elevated levels.
We could very well see another round of recession and crisis in the next few years, and the near term results could be devastating for most stock portfolios and home valuations. However, if we examine the even more extreme measures that the Fed intends to use to overcome the next cycle of recession, and we run the numbers through the Wealth Function, then we can see that the end result could be a mathematical foundation for the golden bars. What would in ordinary times have a value of $100, could be worth $178, or $317 or even $565. We could eventually see the highest asset prices in history, with far higher levels than even those of today.
To understand how the dire event of another cycle of recession could eventually lead to another and amplified cycle of record prices for stocks, bonds and real estate - we need to be able to follow the math. Using graphics and a series of simple to follow examples, this analysis will explain how the math works, and show how the Fed's planned even more extraordinary actions for the containment of a possible new cycle of crisis could potentially end up creating one of the most profitable investment markets in history.
If there is a new recession in the next few years, then it is highly likely that the Federal Reserve will take extreme measures in response, with the primary response being to swiftly knock short term interest rates back down to zero percent.
For many investors - the combination of recession, heavy-handed Fed interventions, and the return of zero percent interest rate policies (ZIRP) is likely to produce devastating results for their portfolios, and possibly their standard of living in retirement.
At the same time - some quite attractive profit opportunities will also exist, once we learn how to see them. This analysis explores one reasonably simple and practical alternative for turning zero percent interest rates into a 21% annual return.
The United States has been moving through cycles of crisis and the containment of crisis, with an unprecedented degree of heavy-handed interventions by the Federal Reserve feeding the cycles and deeply distorting investment results.
These cycles are likely not over, but are ongoing and may even be amplifying. If the cycles do continue, and particularly if the amplification continues, then some of the biggest losses which we have seen to date are likely still ahead of us, and possibly within the next few years. These losses could be devastating for many millions of investors following traditional strategies.
However, when we take not a "gloom & doom" perspective, but a cyclical perspective, then we can understand the many logical reasons for why a new cycle of some of the highest asset prices and largest profits of our lifetimes for 1) stocks; 2) bonds; 3) real estate; and 4) precious metals could also still be awaiting us in the coming years.
In combination, the cycles and the extraordinary degree of Fed interventions create more volatile markets, with higher highs and lower lows than have existed in the past - and they do so in a rational sequence, much of which can be understood in advance by investors.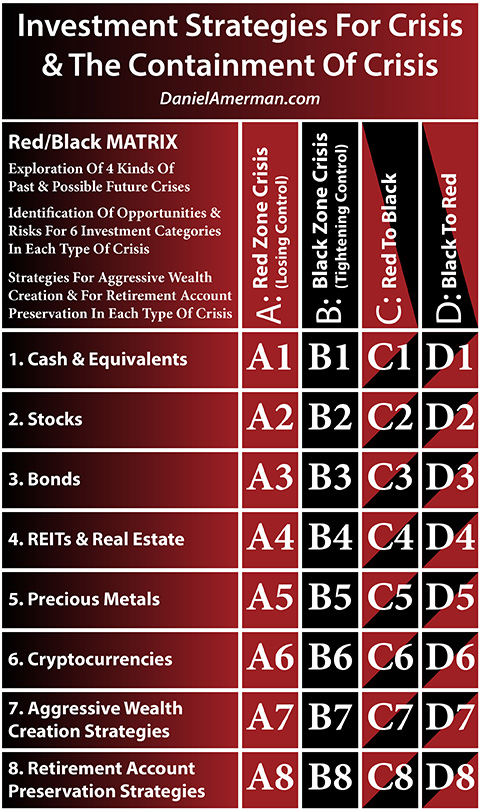 Using a matrix, with the cycles as the columns and the investment categories as the rows, we will introduce a new framework for seeing and understanding the many investment implications of the cycles in an environment where the economy and markets are still dominated by heavy-handed Fed interventions. This framework can be systematically applied to identify the logical sequences of nontraditional risks and heightened opportunities for each of the individual major investment categories at each of the different stages in the cycles, as well as in each of the transition points between the cycles.
In a previous analysis we explored the relationship between a new generation of heavy-handed Federal Reserve interventions - and the highest asset prices in history.
There is a problem, however, with asset prices that are based on extraordinary interventions - and that is what happens to the asset prices if the interventions cease.
As explored herein, the simple stress test of assuming a return to the normal investment valuations of most our lifetimes could inflict investment losses that are not only crippling - but are effectively "permanent" as well. There would be no reason to expect a cyclical recovery of those losses, even when the economy itself fully recovered.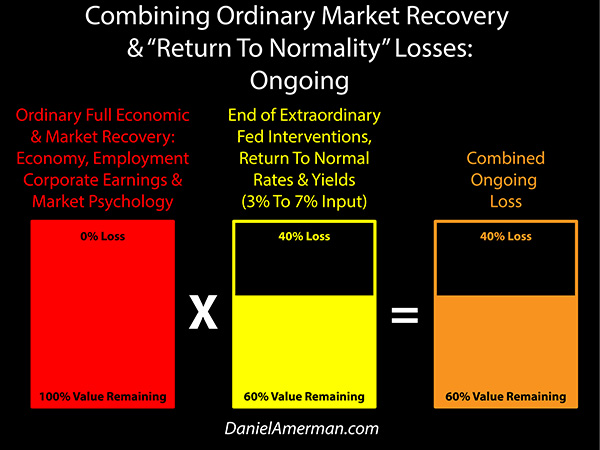 The amplified investment cycles created by unprecedented Federal Reserve interventions can generate both amplified profits - and amplified losses. In this analysis we explore the long-lasting financial consequences of a potential "reversion to the mean", i.e. a return to the decades long averages for how stocks, bonds and real estate are valued.
Recent Analyses
Ongoing articles and commentary about current financial developments are sent directly to subscribers (subscription is free, and is included with the free book).  A sampling of some recent articles can be found below.
Next Recession: Finding A 48% Yield Amid The Ruins
Next Recession: Concentrating Future Losses & Bringing Them Forward In Time As Profits
Next Recession: Turning Zero Percent Interest Rates Into A 21% Yield
Stacking The Next QE On Top Of A $4 Trillion Fed Floor
A New Great Recession, Once Every Five Years
Will The 35th Recession Bring A Swift Return To Zero Percent Interest Rates?
Will A 35th Iteration Of This Night & Day Cycle Change Your Retirement?
Using The Red/Black Matrix To Identify Investment Risks & Opportunities
Three Beautiful Arbitrages (Why Yield Curve Inversions Happen)
OECD Recommends Potential Major National Debt Increases: The Impact On Retirement
The Sixth Graph - The Multiplication Of Wealth
Using The Five Graphs To See The 1-2-3 Cycle Of Exaggerated Profits & Losses
Five Graphs That Explain How The Fed Creates Extreme Real Estate Price Movements
Will The Federal Reserve Create Two Major Investment Arbitrage Cycles?
Is Traditional Financial Planning Blind To The New Sources Of Profits?
A Model That Better Fits The Data
A Remarkably Accurate Warning Indicator For Economic & Market Peril
Does The Containment Of Crisis Create Record Investor Wealth?
A Continuous Cycle Of Crisis & The Containment Of Crisis
The ABCs Of Popping A Third Asset Bubble
Using Personal Math Instead Of Abstract Theory To Make Better Retirement Decisions (Social Security Debate)
How Inflation Reduces The Real Value Of Social Security Net Of Medicare Premiums (Part 6)
Medicare Premiums Are A Shared Pool - Eight Coming Changes That Will Transform Retirement (Social Security Indexing Part 5)
The Critical Impact Of Medicare Premiums On Social Security Inflation Indexing (Part 4)
Out Of Money By November 29th - Social Security Indexing Part 3
Out Of Money By December 12th - Social Security Partial Inflation Indexing Part 2
The Social Security Inflation Lag Calendar - Partial Indexing Part 1
Game Theory & Retirement Choices - Should You Get Yours, Before Everyone Else Tries To Get Theirs?
Are Roth IRA Owners Likely To Be Subject To Double Taxation?